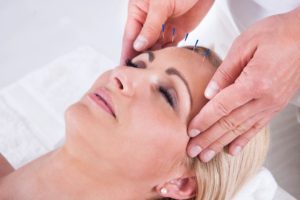 Otherwise known as an acupuncture "facelift" is becoming a more popular, non-surgical method for those who want not only to maintain beauty, radiance and vitality in the face, but also improve their overall health and well being.
Facial rejuvenation using acupuncture improves overall skin and muscle tone while enhancing and increasing the elasticity of the skin.
Acupuncture can reduce the sings of aging by strengthening and stimulating the circulation of qi within the meridian pathways, especially those of the face. By increasing the flow of energy, blood and lymph circulation Acupuncture improves the face's natural, healthy color, diminishes wrinkles and eliminates fine lines. Acupuncture promotes collagen production and increases muscle tone and elasticity helping to firm the skin, fill out wrinkles, and reduce bags and sagging.
Positive changes are usually noticeable within the first 4-6 treatments. You will look and feel more energetic, calm, vibrant and healthy. We typically see patients twice a week for 5 weeks and then once per month to maintain the results. We suggest combining acupuncture with topical nutrition, herbal supplements, exercise and acupressure in order to maximize results.
Have more questions about Facial Rejuvenation? Click Here…